Spectator FAQ
Gladiator Polo™ is a professional arena polo league that combines the world's best polo players with modified rules that keep the play fast. The event is played in a ring with all weather footing that is approximately 300′ x 150′ which is 1/10 the size of a typical grass polo field.  There are three players on each side. The Inaugural Gladiator Polo™ League in Wellington, FL had prize money of $250,000, which is the world's largest polo purse. The Gladiator Polo™ League continued a highly anticipated summer tour at Tryon International Equestrian Center in Mill Spring, NC.
Arena Polo History
Arena polo has its origins in the USA during the last century when the officers of a US Army cavalry regiment needed a means to practice field polo during the harsh winter months. At their barracks, they had a large indoor riding school and they developed the game of arena polo to train themselves and their horses for field polo. Before long, the game became popular in its own right until today there are more arena polo clubs in America than there are field polo clubs and the number of players is much higher than field polo. In UK the game is increasing in popularity and there are now more than 20 clubs and 800 players throughout the land.
About the Game
Arena Polo is played with three players per team on a regulation size arena of 300 feet by 150 feet, enclosed by walls of four or more feet in height. The game consists of six chukkers (periods) of five minutes each.
Arena Polo does not require the large number of horses to play that Outdoor/Grass Polo demands. Many players use two horses, alternating horses each chukker. The Arena Polo ball is similar to a mini soccer ball, larger than the small hard plastic ball used outdoors. While the larger size gives the new player confidence in learning to hit the ball, proper technique is necessary because the arena game is played on a dirt surface with the ball bouncing on the uneven surface and off the arena wall.
Arena Polo can be played either indoors or outdoors, days or nights under lights and weather permitting, all year around. Many clubs only play Arena Polo due to the high cost of maintaining grass fields and the smaller field size required.
(Source: http://www.sapolo.co.za/local-polo/arena-polo)
Similarities Between Hockey & Arena Polo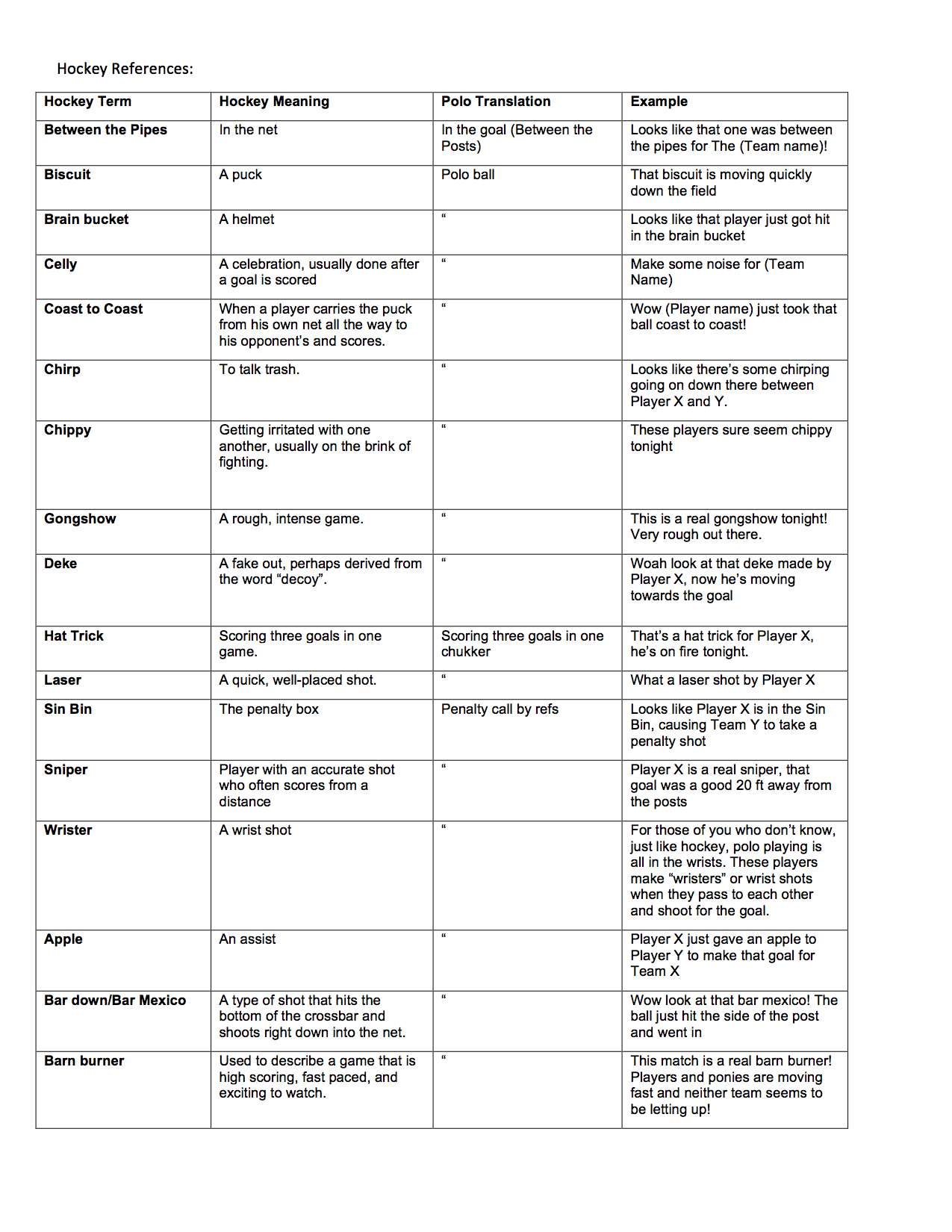 The 2018 Gladiator Polo™ tour is returning to TIEC this June!
When:
June 8, June 16, June 23.
Tickets: General Admission is free. VIP seating available with an included Asado dinner buffet.
Parking: Free
Activities: Pony rides, Kid's Gladiator Activities, Polo Player Meet 7 Greet, Silo Bar Karaoke & After Party, and more!